All Season (3)
Know what this is about? Be the first one to add a plot.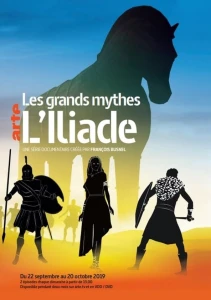 The first work of Western literature, 'The Iliad' is a fresco that traces the long Trojan War. During this conflict, the Achaeans, from Mainland Greece, set off to lay siege to Troy to recover the beautiful Helena, kidnapped by Paris from her husband, the King of Sparta Menelaus. After a ten-year siege under the walls of the city of Troy, the war turned to the advantage of the Achaeans thanks to the famous Achilles.
About
This series sets out to recount these ancient stories using animations created especially for the occasion, and illustrations chosen from the entire history of art. This dynamic blend, a bridge between modernity and history, ancient narrative and contemporary dramatic art, is a new way to discover or re-discover this part of our universal heritage.