Episodes (40)
S27E01 · Episode #27.1
Sep 10, 1983
Michael Sembello performs "Maniac" and "Automatic Man." Music video: Menudo - "Like A Cannonball."
S27E02 · Episode #27.2
Sep 17, 1983
Scott Baio performs "Some Girls" and "She's Trouble." Amy Holland sings "I Hang on Your Every Word" and "Shake Me, Wake Me (When It's Over)."
S27E03 · Episode #27.3
Oct 01, 1983
Frank Stallone performs "Far from Over." Bonnie Tyler sings "Total Eclipse of the Heart" and "Have You Ever Seen the Rain?" Music video: Lionel Richie - "All Night Long."
S27E04 · Episode #27.4
Oct 08, 1981
Eric Burdon and The Animals perform "The Night." Marshall Crenshaw performs "Our Town" and "Whenever You're on My Mind." Music video: Shalamar - "Dead Giveaway."
S27E05 · Episode #27.5
Oct 15, 1983
Paul Anka sings "Hold Me 'Til The Mornin' Comes" and "Gimme The Word." Music video: Loverboy - "Queen of the Broken Hearts."
S27E06 · Episode #27.6
Oct 29, 1983
The Gap Band perform "Party Train." Huey Lewis and the News perform "The Heart of Rock and Roll" and "Heart and Soul." Music video: Billy Joel - "Tell Her About It."
S27E07 · Episode #27.7
Nov 05, 1983
Dave Davies (of The Kinks) performs "Love Gets You." The Mary Jane Girls (protégées of Rick James) sing "All Night Long" and "Candy Man."
S27E08 · Episode #27.8
Nov 12, 1983
Midnight Star perform "Wet My Whistle." Michael Stanley Band perform "My Town" and "Hard Time." Music video: Culture Club - "Church of the Poison Mind."
S27E09 · Episode #27.9
Dec 03, 1983
James Ingram sings "Party Animal." Glenn Shorrock performs "Don't Girls Get Lonely" and "Till I Love You" Music video: Human League - "Mirror Man."
S27E10 · Episode #27.10
Dec 24, 1983
1983 Christmas Show. DeBarge sing "Time Will Reveal." The Romantics perform "Talking in Your Sleep" and "Rock You Up."
S27E11 · Episode #27.11
Dec 31, 1983
ABC perform "That Was Then But This Is Now" and "S.O.S." Oingo Boingo perform "Wake Up (It's 1984)."
S27E12 · Episode #27.12
Jan 07, 1984
Peter Schilling sings "Major Tom (Coming Home)." Kim Carnes sings "Invisible Hands" and "You Make My Heart Beat Faster (And That's All That Matters)." Music video: John Cougar Mellencamp - "Crumblin' Down."
S27E13 · Episode #27.13
Jan 14, 1984
Madonna sings "Holiday." Quarterflash perform "Take Me to Heart" and "Take Another Picture."
S27E14 · Episode #27.14
Jan 21, 1984
The Eric Martin Band perform "Letting It Out" and "Sucker for a Pretty Face." Tavares perform "Words and Music."
S27E15 · Episode #27.15
Jan 28, 1984
Stephanie Mills sings "How Come U Don't Call Me Anymore?" Matthew Wilder performs "Break My Stride" and "The Kid's American."
S27E16 · Episode #27.16
Feb 04, 1984
Anita Baker sings "You're The Best Thing Yet." The Commodores (according to the Dick Clark Media Archives) perform "Turn Off The Lights" and "Only You." (Newspaper TV schedules list a different Commodores song, "Ooo, Woman You.")
S27E17 · Episode #27.17
Feb 25, 1984
Eddie Money performs "The Big Crash" and "Club Michelle." Deborah Allen sings "Baby I Lied."
S27E18 · Episode #27.18
Mar 03, 1984
Toni Basil sings "Over My Head." Night Ranger perform "(You Can Still) Rock In America" and "Rumors in the Air."
S27E19 · Episode #27.19
Mar 10, 1984
Mick Fleetwood's Zoo perform "Angel Come Home" and "You Might Need Somebody." Grace Slick sings "All the Machines." Music video: Eurythmics - "Here Comes the Rain Again."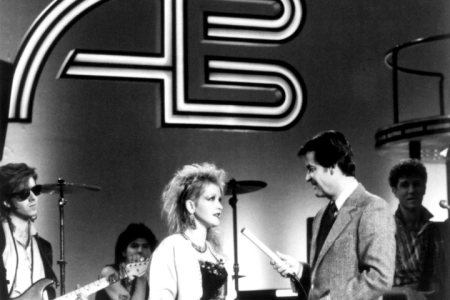 S27E20 · Episode #27.20
Mar 17, 1984
Cyndi Lauper sings "Time After Time" and "Girls Just Want to Have Fun." Glenn Scarpelli performs "Don't Mess Up This Good Thing." Music video: John Lennon - "Nobody Told Me."
S27E21 · Episode #27.21
Mar 24, 1984
Paul Young performs "Come Back and Stay" and "Love of the Common People." UB40 perform "Red Red Wine."
S27E22 · Episode #27.22
Mar 31, 1984
K.C. sings "Give It Up." Madness performs "The Sun and the Rain" and "Keep Moving."
S27E23 · Episode #27.23
Apr 07, 1984
Shalamar perform "Dancing In The Sheets." Dwight Twilley performs "Girls" and "Don't You Love Her?"
S27E24 · Episode #27.24
Apr 14, 1984
The Alarm perform "68 Guns" and "Marching On." Patti Austin sings "It's Gonna Be Special." Music video: Billy Idol - "Rebel Yell."
S27E25 · Episode #27.25
Apr 21, 1984
Shannon sings "Let the Music Play" and "Give Me Tonight." Golden Earring perform "Clear Night Moonlight."
S27E26 · Episode #27.26
Apr 28, 1984
Bon Jovi perform "Runaway" and "She Don't Know Me." Mr. Mister perform "Hunters of the Night." Music video: Rick Springfield - "Love Somebody."
S27E27 · Episode #27.27
May 05, 1984
Christine McVie (of Fleetwood Mac) performs "Got A Hold on Me" and "Love Will Show Us How." Wire Train perform "Chamber Of Hellos."
S27E28 · Episode #27.28
May 12, 1984
Berlin perform "No More Words" and "Now It's My Turn." Yarbrough and Peoples sing "Don't Waste Your Time."
S27E29 · Episode #27.29
May 19, 1984
Kim Fields (from the sitcom "Facts of Life") sings "Dear Michael." Wang Chung perform "Dance Hall Days" and "Don't Let Go."
S27E30 · Episode #27.30
May 26, 1984
The Romantics perform "One in a Million" and "Open Your Door." Sergio Mendes, with vocalist Joe Pizzulo, performs "Olympia" (the theme song to the upcoming 1984 Summer Olympics in Los Angeles).
S27E31 · Episode #27.31
Jun 02, 1984
Singer-songwriter Van Stephenson performs "Modern Day Delilah" and "What the Big Girls Do." The five-week dance contest begins.
S27E32 · Episode #27.32
Jun 09, 1984
Laura Branigan sings "Self Control" and "Satisfaction." Music video: Deniece Williams - "Let's Hear It for the Boy." A second look at the couples in the annual dance contest.
S27E33 · Episode #27.33
Jun 16, 1984
Bananarama perform "Robert De Niro's Waiting" and "Cruel Summer."
S27E34 · Episode #27.34
Jun 23, 1984
Slade perform "Run Runaway" and "My Oh My." Music video: R.E.M. - "South Central Rain." A fourth look at the couples competing in the dance contest.
S27E35 · Episode #27.35
Jun 30, 1984
La Toya Jackson and Howard Hewett sing "Heart Don't Lie." La Toya Jackson sings "Bet'cha Gonna Need My Lovin'." This year's dance contest wraps up with a final look at the competing couples.
S27E36 · Episode #27.36
Jul 07, 1984
Howard Jones performs "What Is Love?" and "New Song." Dennis Edwards sings "(You're My) Aphrodisiac." Music video: The Greg Kihn Band - "Reunited."
S27E37 · Episode #27.37
Jul 14, 1984
The Australian band Real Life perform "Send Me An Angel" and "Catch Me I'm Falling." Viewers are given a final look at the couples competing in this year's dance contest.
S27E38 · Episode #27.38
Jul 28, 1984
Corey Hart sings "Sunglasses at Night." John Waite performs "Missing You" and "Tears."
S27E39 · Episode #27.39
Aug 18, 1984
Eddy Grant performs "Romancing the Stone." Deniece Williams sings "Let's Hear It for the Boy" and "Next Love." Music video: Roger Taylor - "Man On Fire."
S27E40 · Episode #27.40
Aug 25, 1984
The Bangles perform "Hero Takes a Fall." Icicle Works perform "Birds Fly (Whisper To A Scream)" and "In the Cauldron of Love." Music video: Scandal featuring Patty Smyth - "The Warrior."
About
American Bandstand (also know as Bandstand) Season 27 (1983) is released on Sep 10, 1983 and the latest season 32 of American Bandstand is released in 1989. Watch American Bandstand online - the English Music TV series from United States. American Bandstand is directed by Ed Yates,Kip Walton,Barry Glazer,Hal Galli and created by Charles Isaacs with Dick Clark and Smokey Robinson.
On this show, Dick Clark a weekly dance that featured the latest hit music for attending to dance to. In addition, the show had performances by popular musicians and audience members rated songs.
As know as:
Bandstand, AB, VH1's Best of American Bandstand, Bandstand, Dick Clark's American Bandstand
Production Companies:
WFIL Philadelphia, American Broadcasting Company (ABC), USA Network
Cast & Crew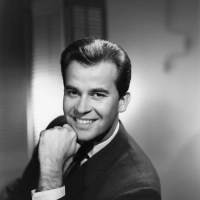 Dick Clark
As Self - Host
Smokey Robinson
As Self
The Sylvers
As Themselves