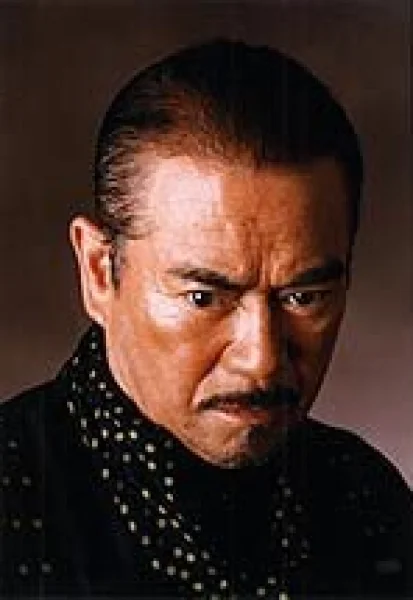 Shin'ichi Chiba
actor, stunts, additional crew
Shin'ichi Chiba was born on Jan 22, 1939 in Japan. Shin'ichi Chiba's big-screen debut came with Keishichô monogatari: Fuzai shômei directed by Shôichi Shimazu in 1961, strarring . Shin'ichi Chiba is known for Okinawa Yakuza sensô directed by Sadao Nakajima, Hiroki Matsukata stars as Hideo Nakazato and Shin'ichi Chiba as Seigou Kunigami. Shin'ichi Chiba has got 3 awards and 3 nominations so far. The most recent award Shin'ichi Chiba achieved is Phoenix Critics Circle. The upcoming new movie Shin'ichi Chiba plays is Okinawa Yakuza sensô which will be released on Aug 25, 2017.
Sonny Chiba was born as Sadao Maeda in Fukuoka, Japan on January 22, 1939. His father was a military test pilot. During his youth, he had an interest in both theater & gymnastics. He was talented enough to make the Japanese Olympic Team until a chronic back injury ended his career. However, he took a strong interest in karate under the guidance of the Mas Oyama during college & soon earned his first black belt. However, his life changed again when he was discovered during a talent search by Toei Studios in 1960. He soon began his screen career under the name Shinichi Chiba, appearing as the space chief in Uchu Kaisoku-ken. Over the next decade, he busied himself w/ appearances in Japanese crime thrillers, steadily building a reputation for playing hard men of few words & direct actions.With his proficiency in karate, judo & kenpo, he took advantage of the early 1970s martial arts boom sparked by Bruce Lee. He starred in Gekitotsu! Satsujin ken (1974), playing a mercenary style street thug who would do anything for a price & take on anyone, even the yakuza. The approach of the film was quite different from the Bruce Lee films in that Lee only eliminated his enemies when he was defending his friends or his honor. Instead, he was only aiming for a fistful of dollars for his deadly services & would engage in mortal combat for the highest bidder, although this often clouded his judgement to his own detriment. The only person the Street Fighter respects is his martial arts teacher, karate master Masaoko who manages to easily out smart & out fight him. Upon its release, the film was criticized for its excessive violence.A sequel quickly followed w/ him back in Satsujin ken 2 (1974), which was then followed by a third Street Fighter movie starring Etsuko Shihomi in the gritty Onna hissatsu ken (1974). There was a fourth & final film in the series Gyakushu Satsujin ken.He had firmly established himself as a key anti-hero of Asian martial arts cinema who said little & used his fists to sort out his troubles. With the demand high from fans, he remained busy on screen for the next 20 years, starring in numerous Japanese film & TV productions w/ an emphasis on bruising fights, samurai swords, yakuza gangsters & beautiful girls in trouble.Outside of Japan, the Street Fighter film series has achieved enduring popularity through many midnight cult screenings. Their style heavily influenced Quentin Tarantino. He has used strong references & imagery from the Street Fighter movies in several of his films including True Romance (1993) and Pulp Fiction (1994). When he came around to casting for Kill Bill: Vol. 1 (2003), he was eager to have Chiba accept the key role of the hot headed & sometimes humorous Okinawan sword maker Hanzo Hattori. He continued to be a major figure & influence in the world-wide passion in martial arts movies for over 3 decades, contributing to the genre by encouraging & training young hopefuls seeking to make their mark on screen.He passed away on August 19, 2021.
Birthday

Jan 22, 1939

Place of Birth

Fukuoka, Japan
Known For
Awards
3 wins & 3 nominations
Phoenix Critics Circle
2021
Posthumously.
Winner
- Lifetime Achievement Award
Hawaii International Film Festival
2015

6.3

2012

actor

as Sushi Chef (as Sonny Chiba)

6.0

2006

8.8

2006

6.0

2004

actor

as Kazama - Advertising Company President (as Sonny Chiba)

7.5

2004

actor, additional crew

as Hattori Hanzo (as Sonny Chiba)

8.0

2003

actor, additional crew

as Hattori Hanzo (as Sonny Chiba)

8.2

2003

actor

as Makio Mimura (Shinji's revolutionary uncle) (as Sonny Chiba)

4.6

2002

6.7

2001

6.1

1998

actor

as Lord Conqueror / Hung Baa (as Sonny Chiba)

6.3

1995

actor

as Makato (as Sonny Chiba)

4.2

1994

actor

as Jiro 'J.J.' Jintani (as Sonny 'J. J.'Chiba)

4.9

1992

actor

as Shiba (as Sonny Chiba)

6.5

1992

actor

as Horikoshi (as Sonny Chiba)

3.7

1989

stunts, actor

as Iba Shoemon (as Sonny Chiba)

7.0

1987

actor

as Bunshichi (as Sonny Chiba)

7.2

1986

actor

as Yakuza boss (as Sonny Chiba)

5.0

1985

actor

as Ryozo Kano (as Sonny Chiba)

5.8

1983

actor

as Inuyama Dosetsu Tadatomo (as Sonny Chiba)

6.4

1982

actor, stunts

as Shinzaemon Yagyu (uncredited)

5.7

1982

actor

as Actor (as Sonny Chiba)

6.9

1981

actor

as Daisuke Kamikaze (as Sonny Chiba)

5.6

1981

actor

as Prince Ido (as Sony Chiba)

5.3

1980

6.0

1980

actor

as Dr. Yamauchi (as Sonny Chiba)

6.2

1979

actor

as Lt. Yoshiaki Iba (as Sonny Chiba)

6.4

1979

actor

as Mitsuhiko Sakurai (as Sonny Chiba)

6.6

1979

actor

as Samon Shimoguni (as Sonny Chiba)

6.9

1979

actor

as Yosuke Ota (as Sonny Chiba)

7.0

1978

actor

as Kazuemon Fuwa (as Sonny Chiba)

7.1

1978

actor

as Prince Hans (as Sonny Chiba)

4.8

1978

actor

as Yagyû Jûbê (as Sonny Chiba)

7.2

1977

5.9

1977

actor

as Duke Togo / Golgo 13 (as Sonny Chiba)

6.3

1977

6.5

1977

actor

as Joji Kano (as Sonny Chiba)

6.7

1977

actor

as Mu Yun Tek (as Sonny Chiba)

5.6

1976

actor

as Seigou Kunigami (as Sonny Chiba)

7.2

1976

actor

as Shuhei Sakata (as Sonny Chiba)

6.8

1975

6.7

1975

7.5

1975

7.2

1975

actor

as Tsugami (as Sonny Chiba)

5.9

1975

actor

as Aoki (as Sonny Chiba)

6.8

1975

actor

as Akira Inugami (as Sonny Chiba)

6.3

1975

7.4

1974

6.0

1974

actor

as Ryuichi Koga (as Sonny Chiba)

6.7

1974

actor

as Takuma Tsurugi (as Sonny Chiba)

6.3

1974

actor

as Takuma Tsurugi (Terry) (as Sonny Chiba)

6.9

1973

6.3

1973

actor

as Kiba / Chiba (as Sonny Chiba)

5.2

1973

actor

as Katsutoshi Otomo (as Sonny Chiba)

7.5

1973

5.5

1972

actor

as Kikuchi (as Sonny Chiba)

5.1

1972

6.5

1972

6.5

1972

actor

as Kikuchi (as Sonny Chiba)

6.7

1971

7.2

1971

7.1

1970

actor

as Hayata (as Sonny Chiba)

6.4

1970

actor

as Hayata Shiro (as Sonny Chiba)

5.8

1969

actor

as Tadashi Onuma (as Sonny Chiba)

7.6

1969

6.7

1968

actor

as Second Sub-lieutenant Kodama (as Sonny Chiba)

6.6

1968

actor

as Takiguchi (as Sonny Chiba)

6.5

1967

1967

actor

as Komakichi Sugimoto (as Sonny Chiba)

1967

1967

7.4

1966

actor

as Dr. Yamatone (as Sonny Chiba)

6.0

1966

actor

as Ken Abe (as Sonny Chiba)

4.7

1966

1965

6.8

1965

1965

actor

as Lawyer Ohki (as Sonny Chiba)

7.6

1964

1964

actor

as Makoto Yabuki (as Sonny Chiba)

5.7

1963

1963

1963

1963

1963

1962

7.7

1962

1962

7.1

1961

actor

as Shinichi Tachibana / Iron-Sharp (as Sonny Chiba)

2.1

1961

1961