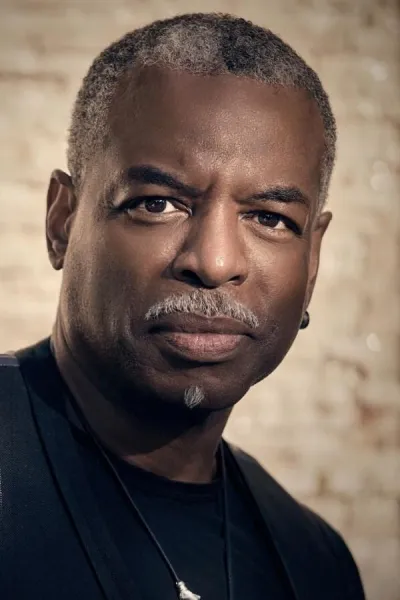 LeVar Burton
actor, director, producer
LeVar Burton was born on Feb 16, 1957 in Germany. LeVar Burton's big-screen debut came with Almos' a Man directed by Stan Lathan in 1976, strarring Dave. LeVar Burton is known for Leverage: Redemption directed by Marc Roskin, Gina Bellman stars as Sophie Devereaux and Christian Kane as Eliot Spencer. LeVar Burton has got 23 awards and 32 nominations so far. The most recent award LeVar Burton achieved is Children's & Family Emmy Awards. The upcoming new tvshow LeVar Burton plays is Tom Swift - Season 1 which will be released on May 31, 2022.
LeVar Burton was born on February 16, 1957 in Landstuhl, Rhineland-Palatinate, Germany. He is an actor and director, known for Star Trek : Générations (1994), Star Trek : Premier Contact (1996) and Star Trek : Insurrection (1998). He has been married to Stephanie Cozart Burton since October 3, 1992. They have one child.
Birthday

Feb 16, 1957

Place of Birth

Landstuhl, Rhineland-Palatinate, Germany

Also known

Levar Burton, Levardis Robert Martyn Burton Jr.
Known For
Awards
23 wins & 32 nominations
Children's & Family Emmy Awards
2022
Winner
- Lifetime Achievement Award
Daytime Emmy Awards
2007
Outstanding Children's Series
2007
Outstanding Performer in a Children's Series
2005
Outstanding Children's Series
2005
Outstanding Performer in a Children's Series
2023

6.6

2022

3.2

2022

8.2

2021

8.2

2020

5.6

2016

6.6

2014

6.6

2014

6.6

2014

director, actor

as Paul Haley

7.5

2013

director, actor

as Paul Haley

7.5

2012

director, actor

as Paul Haley

7.5

2012

3.8

2011

6.6

2011

actor

as Levar Burton (as Levar Burton)

3.9

2010

4.7

2010

actor

as Geordi La Forge (voice)

7.8

2009

5.4

2007

actor

as John Bosco Bisimana (voice)

7.7

2003

actor, director

as Night Watchman Elf (uncredited)

5.8

2002

6.4

2001

actor

as Martin Luther King, Jr.

6.7

1999

6.1

1998

actor

as Geordi La Forge (as Levar Burton)

6.4

1998

7.8

1998

4.2

1997

actor

as Lt. Cmdr. Geordi La Forge (voice)

7.0

1996

6.7

1996

actor

as Geordi (as Levar Burton)

7.6

1996

3.9

1995

7.7

1994

6.7

1994

6.6

1994

actor

as Dr. Franklin Carter

4.5

1993

6.7

1993

8.7

1993

4.7

1992

6.7

1992

8.7

1991

6.7

1991

8.7

1990

6.7

1990

8.7

1989

8.7

1988

8.7

1988

6.7

1987

8.7

1986

actor

as Pvt. Michael Osgood

4.2

1986

6.2

1985

6.4

1985

7.2

1984

7.5

1984

7.1

1980

6.2

1980

7.5

1979

7.2

1978

6.8

1977

actor

as Kunta Kinte / Toby

8.4

1977

6.7

1976

7.2