Cast & Crew
Rosyam Nor
as Roslan
Fattah Amin
as Zul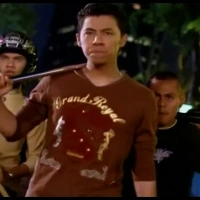 Syamsul Yusof
as Asyraff
Tania Hudson
as Mia
Shaharudin Tambi
as Superintendent Azmi
Mahmud Ali Bashah
as Dato Meor
Esma Daniel
as Inspektor Zamri
Puteri Balqis
as Amira
Sabrina Ali
as Diana
Ramona Zamzam
as Ned
About
Tells a story about a group of special police unit force lead by Roslan who has been trying to bring down a robbery gang lead by a guy named Asyraff. The gang is called 'Gang Anarchist' and known for their smart plans and tactics in bank robberies to confuse the police. In the same time a young policeman named Zul has been recruited into the special force team. The situation becomes more complicated when Asyraff, the gang leader stared to manipulate the minds of both Roslan and Zul. At the same time, Roslan is facing a problem in his marriage as he finds difficulties in balancing family and work. Zul is having the same problem with fiancé who happens to be daughter of the owner of Damofa Bank, which is the main target by the gang robbers. A dark secret will be revealed when they are on the move for the next heist? Will the special unit force be able to bring down the Asyraff? Everything will be revealed in the action-packed movie "KL Special Force"
More Info
Release Date:
Mar 08, 2018
Production Companies:
Damofa Productions Sdn. Bhd., Viper Studios Sdn. Bhd.